Posted on
July 3rd, 2022
by jcl4ever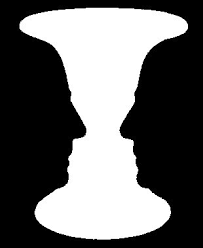 Long ago, I was introduced to concept of darkroom retreat in the video at the bottom of this post. The image to the left summarizes the power of darkroom retreat. At first, you might see an urn (positive space). But then a few seconds later you might see two people (negative space).
After 9 days in dark room retreat, you become more acquainted with yourself as FORMLESSNESS RUNNING THROUGH FORM
As an analogy to the picture, you might see the two people more often than the urn.
I'll be the first to admit that Jasmuheen is a controversial figure. But her expression of the power of isolation to find a greater you is quite exquisite. Fast forward to 7:26 in this video for details;